XDC Community was launched on August 19, 2022 with a mission to facilitate a prosperous decentralized developer community for the XDC Network. We are a group of community members who recognized the need to improve decentralization through standardization by providing a developer community that will attract top tier developers and institutional partners to build on XDC.
This article outlines the major deliverables over the last 2 months, a plan for the official formation of XDC Community entity including major focus areas, deliverables, and a model for growth and sustainability from now to the end of 2023.
We need you, members of the XDC community, to vote in order for this effort to continue.
If there is enough support for this initiative within the XDC community, then the budget outlined below will be distributed from the XDC Ecosystem Development Fund and used to fund the XDC Community Initiative.
We would appreciate any comments for or against the proposal in the comments section below. We will also be hosting events and AMAs to have live discussions about the proposal.
After you've made your decision, please cast your vote in the comments section: Vote = YES -or- NO
Voting will start Monday Oct.31 at 12AM EDT (UTC-4) and end Friday Nov.04 at 11:59PM EDT (UTC-4).
Thank you in advance for your support.
---
2 Months of Deliverables
For the last 2 months, the XDC Community team has a proven track record with the following major contributions:
Launch of the XDC Network Improvement Proposal (XIP) process

The idea behind the XIP process is not unique or novel. XIPs are derived heavily from Ethereum Improvement Proposals (EIPs) – they are essential if the blockchain wants to gain major industry adoption.
XIP's are the primary mechanisms for proposing new features, collecting community technical input on an issue, and documenting the design decisions that have gone into the XDC Network
Read more about the proposal here: https://www.xdc.dev/walterblueu/xip-process-proposal-xip-1-1e3
XIP-1 (https://xips.xdc.community/XIPS/xip-1) outlining the process was adopted and made a living document on August 31, 2022. Some of the major XDC developer community members joined the call to support:

Atul Khekade (XinFin - Co-Founder)
Dr. Fisher Yu (HashLabs – Lead for XDPoS2.0)
Troy Wood (Impel – Founder & CEO)
Arturo Cantera Carrasco (Prime Numbers – Founder & CEO)
Anil Chinchawale (XinFin – Blockchain Developer)

Community member @l2dy recognized the network has not officially standardized on the definition of XRC20 and proposed XIP-8. It currently was reviewed and has 1 week left before it is closed and accepted.
Core developer meetings can be seen here: (https://github.com/XDC-Community/pm/issues?q=is%3Aissue+is%3Aclosed)
Kicked off the development of a decentralized developer portal for community-driven documentation

All network document is 100% decentralized and can be found on the XDC Community GitHub docs repository. https://docs.xdc.community/
Community engagement is encouraged and supported through Gitcoin bounties https://gitcoin.co/xdc-community/bounties
To date, more than 50 bounties ($30,000) have been created, reviewed, closed and paid out to community members for the development of how-to tutorials (https://docs.xdc.community/learn/how-to-articles), including:

Deploy Smart Contract using Remix, Hardhat, Truffle, CoralX, OpenZepplin, TypeScript & Hardhat
Deploy XRC20 Token using Truffle, Remix, Hardhat, TypeScript & Hardhat (+ videos in 3 languages)
Deploy XRC721 Token using Truffle, Remix, Hardhat, Remix & Open Zeppelin
Sending XRC20 Tokens using Ethers.js
Build a full stack web application on the XDC Network
Migrate ERC-20 to XDC Network
Create and Deploy a DeFi App - Truffle & Ganache
Introduction to Blockscan APIs and Tatum APIs

Working with Projects to include their documentation on the developer portal: Plugin and Impel
Secured and Leading the Coinbase Hackathon

Hackathon details: https://buidl-the-future.hackerearth.com/
Coordinating & hosting event kick-off, technical discussions, and AMAs across different platforms such as discord, entre, and twitter spaces
Marketing collateral creation and social media outreach
Supporting developers throughout the event on discord, slack, and other channels
Organized decentralized judges to evaluate projects
Coordinating connections with Venture Capital firm(s) for funding future developments
Developer Community Growth

Actively working with many Layer 2 projects to understand their needs and support their development efforts
Coordinating XDPoS2.0 testing and rollout with core development team
Community engagement with developers: Discord, Twitter spaces, and Gitcoin.
Marketing collateral and social media outreach
---
2023 Goals & Deliverables
The following is a list of the goals and deliverables the team will work towards:
Enable the XDC developer discussions on social networks (Discord, Twitter, Medium, LinkedIn, xdc.dev) and provide resources where applicable.

Multiple languages: Japanese, Hindi, Portuguese, Turkish, and English

Facilitate and support the growth of the XDC network standardization through the XIP process.

Many standards are required to get to network equivalent with existing major blockchains. For example: XRC165, XRC721, and XRC1155.

Creation of the Dev Portal (https://www.xdc.community/) website to link to Documents, tutorials, XIPs, FAQs, Example Code, Developer Education (Challenges)
Continue the development of the documentation Hub (https://docs.xdc.community/) with how-to tutorials and expand to include projects built on XDC
Continue the creation of video tutorials and YouTube content
Support the rollout of XDPoS2.0 consensus upgrades
Facilitate Hackathons, judging, and connection of project teams to VCs
Presence at global tradeshows and conferences
Initiatives to build out user groups around the world anchored by XDC Network stakeholders with a focus on College and University blockchain/crypto clubs
On Chain Voting Platform (Electron) – initial MVP and 2 product iterations (The MVP will be a key deliverable in the first month after budget approval)
On Chain Bounty Platform (Element) – initial MVP and 2 product iterations
EVM Compatible Package Aggregator (Molecule) – initial MVP
---
2023 Team
The team is currently made up of 3 members and positions supported by the community through bounties. Positions include:
Jon McBee - @walterblueu (Technical Lead)
Lance Lilly - @lance (DevRel, Social)
Jonathan Murray - @tpada13 (Operations, Finance)
Marketing & social coordinator
Content creator(s) an Copywriter(s)
Hackathon & Bounty (Gitcoin) coordinator
Social Moderators x3 languages
Industry support (part time - starting Q3, 2023)
Full Stack Developer (starting Q3, 2023)
---
Budget
The following table outlines the budget for the remainder of calendar year 2022 and the complete year of 2023.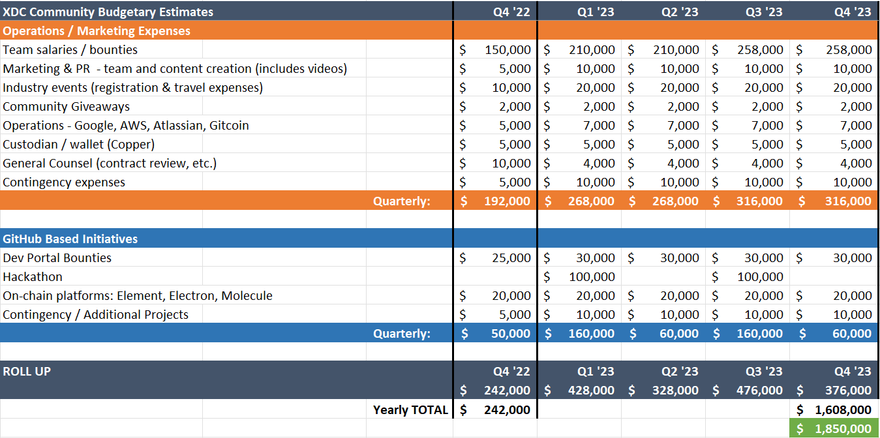 ---
Sustainability
We are focused on building the XDC developer community and ensuring standards and network decentralization are achieved; the value of our efforts come from the increase in projects and industry adoption.
The XDC Community team is dedicated to achieving a fully sustainability model, but this will come with time. It is not achievable in year one, we estimate ~20% will be returned as revenue by end of the 2023 year.
Major sources of revenue:
Platform revenues: Electron, Element, and Molecule dApp returns

A percentage of XDC will be sent back to XDC Community to maintain development

As the network standards, XIP, and other reliability efforts are achieved - industry participation and donations will help support growth
Education and Training for industry participants
XDC Community core team member will provide project architecture and project management services to grow the overall network and layer 2 participation
A significant effort will be put toward 100% sustainability over the course of 3 years, and it is understood additional funding from the ecosystem developer fund will be required to sustain XDC Community efforts for 2024 and 2025. Each year will include a budget and approval from the community.
---
Increase TVL through Staking
When networks are being evaluated, ecosystem and TVL are big components. Although not core to our mission, a goal for XDC Community will be to provide XDC staking with its on-chain platform for bounties and projects (Elements) to increase overall TVL with XDC for the benefit of the XDC Network. The Elements platform will be EVM compatible, allowing for other blockchain participants to be rewarded for locking up XDC.
---
Transparency
All GitHub based initiatives and platform developments will be open-source and voted on by the community through voting dApp proposals. All votes, payments, and actions will remain on-chain for full transparency.
---
Summary
Over the last 2 months, the team has proven to be thought leaders on blockchain topics such as decentralization demonstrated by supporting the development of XIPs. The team has a proven track record for delivering network development tutorials through a bounties program, launching and management of the Coinbase hackathon, and active participation in the community through AMAs, twitter spaces, and discord engagement.
There is an understanding network standardization is a requirement for large scale developer and industry adoption, and the XDC Community team has proven their ability to enable this growth through decentralization.
It is our goal to continue to serve the XDC Community and improve decentralization, standardization, and provide a developer ecosystem and community that will attract top tier developers and institutional partners to build on XDC.
For links to AMAs and Discord / Twitter space to discuss further details, please follow XDC Community on Twitter for the latest details.
We require your support to keep this mission moving forward, please take the time to comment and vote for funding approval:
After you've made your decision, please cast your vote in the comments section: Vote = YES -or- NO
Voting will start Monday Oct.31 at 12AM EDT (UTC-4) and end Friday Nov.04 at 11:59PM EDT (UTC-4).
Edit update (31.OCT) - this was originally held on survey monkey and could have multiple votes, and there is no on-chain voting mechanism, so it have been moved to a manual vote for transparency.

Edit update (05.NOV) - final results were tallied along with taking snapshots of the original post, all comments, and google tally sheet. Data is presented in the Results & Archives section below

Edit update (13.NOV) - added #proposal per Atul request
Thank you
Jon, Lance, Jonathan (and extended team)
---
Results & Archives
The original post, comments page, and google results have been archived with archive.org. The comments of yes / no have been tallied and the results are as follows:
Total votes: 104
YES votes: 97
No votes: 7
Overall Post metrics (likes, comments, views):

Archives
Post & proposal (before this edit)