This post is in continuation to the previously published article
here
To all the developers out there on the XDC ecosystem, we have got some good news for you.
If you are building DApps on XDC which required the data feeds from external world like real time index pair rates it is now possible with the help of PLUGIN which is a decentralized oracle built on XDC.
Currently we have data feeds available on the below categories on Mainnet (Apothem testnet feeds will be available soon)
Stablecoins
Cryptocurrencies (XDC pairs)
Foreign exchange
Commodities
Cryptocurrencies (other)
You could get a feel of it here https://goplugin.co and a more detailed steps for integrating it onto your application at https://feeds.goplugin.co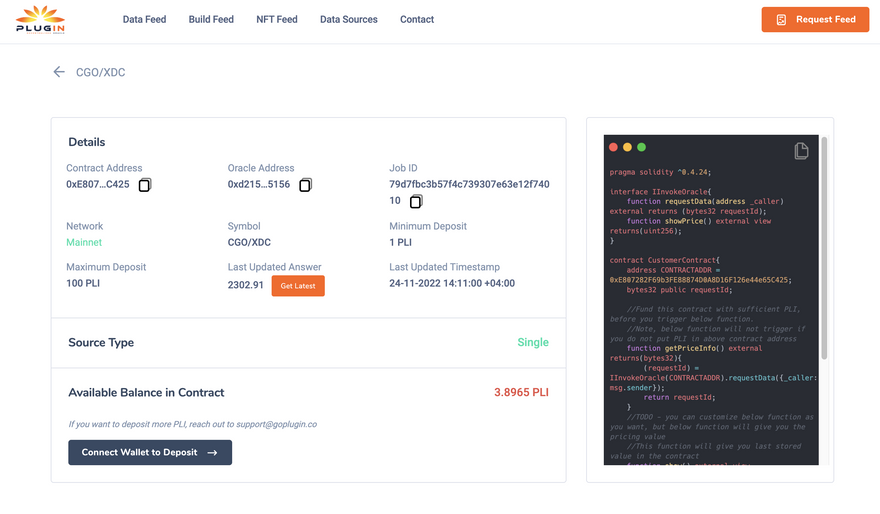 Smart contract developers can do it in a much simpler way with our *customized npm package *https://www.npmjs.com/package/plugin-pricing-index-pair
We at Plugin are continuously working on making things easier for the developers and as a result of which any data feeds can be used in the smart contracts with just few steps https://docs.goplugin.co/plugin-data-feeds-platform/end-data-consumers
If you are looking for any specific feeds to be used in your application you can also reach out to us and we can get it added for you.
Keep a watch at this space https://feeds.goplugin.co/ as new feeds are being added up regularly.
We are continuously enhancing our platform so if you have any suggestions feel free to leave your comment/feedback here.!