The XDCPay is an extension for accessing XDC's XDPoS enabled distributed applications, or "DApps" in your browser! The extension injects the XDC's XDPoS Web3 API into every website's javascript context, so that DApps can read from the Blockchain.
BlocksScan added contributions towards XDC Network Ecosystem and have successfully upgraded XDCPay 2.0 with the latest code of Metamask (before it's licence applied). XDCPay browser extension wallet Beta version was available for testing within the XDC Community since December last year.
The beta version of XDCPay 2.0 was available for testing on the Chrome extension as "XDCClassic" for the last few weeks, and upon completing the testing and confirming with all the "XDCPay" users, we are proposing to go live on the primary extension, i.e. "XDCPay." BlocksScan requested "XDCPay" users to take backups of all their "XDCPay" accounts as soon as possible. Here we have the steps to take backup on XDCPay.
How to take a Backup of your XDCPay Seed Phrase?
Step 1: Click on the Menu option (Find THREE lines on your right hand corner of the XDCPay Screen)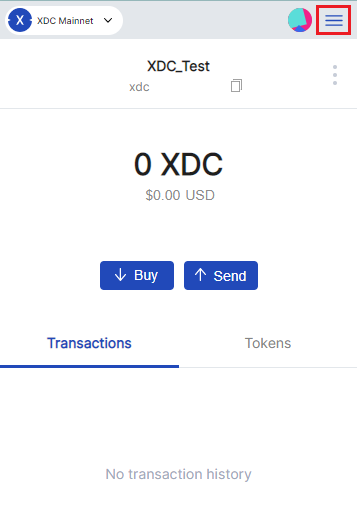 Step 2: Click on "Setting" option.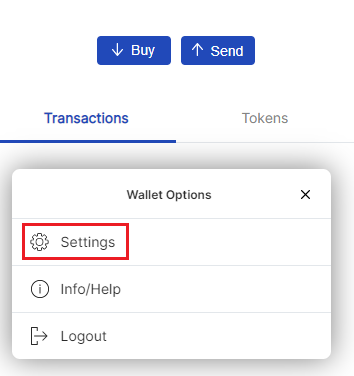 Step 3: Now, click on the "Security and Privacy Settings"
Step 4: By clicking on the "Reveal Secret Seed Words" you will be able to recover your XDCPay Wallet.
Note: If a user has multiple accounts in XDCPay then after importing the existing seed phrase to the new XDCPay version, the user needs to click on the "Create Account" button to recover the accounts.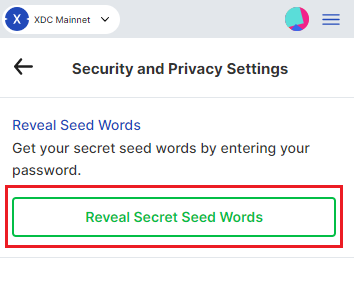 Step 5: Due to account recovery risk, we should take a backup of each and every private key which contains the fund or which are the owners of any smart contract.
Steps to Backup of Private key:
Step 1: Click on the THREE dots to view the Account options and Click on the "Export Private Key" option.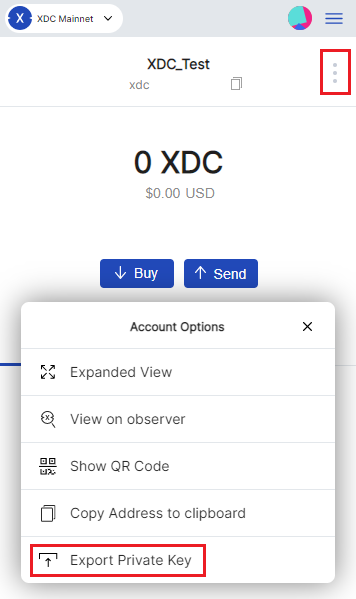 Step 2: Once clicked on the Export Private Key option, User needs to enter the Password.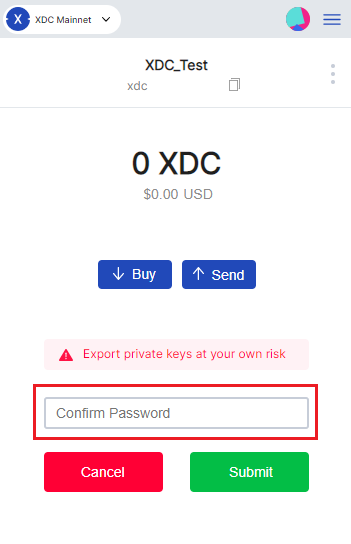 How to Download XDCPay State Logs
State logs contain your public account addresses and sent transactions. State Logs file will help you to know the labels of the accounts(Addresses)
Step 1: Visit Setting option of the XDCPay
Step 2: Click on "Advance Settings"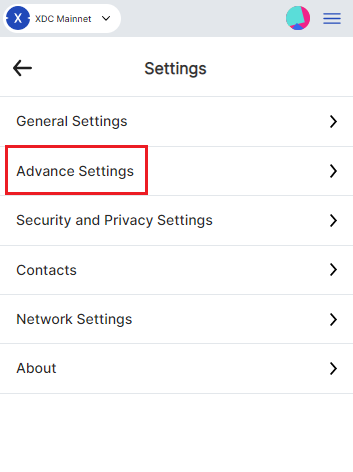 Step 3: By clicking on the "Download State Logs", the file will get downloaded.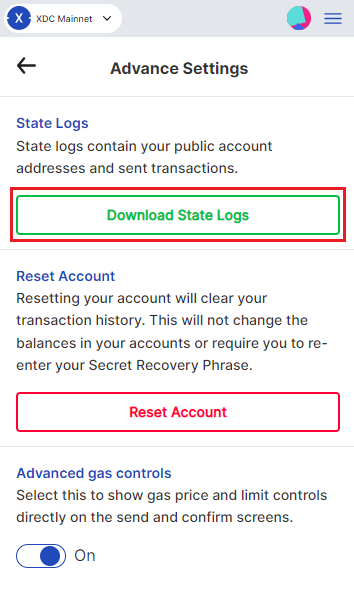 This is how you can backup all the accounts of your XDCPay Extension.