BlocksScan introduces a new Faucet platform, where the community can get any number of test tokens by completing simple tasks such as posting on Twitter.
The faucet is a web-based tool that gives users the testnets access to test. These tokens are worthless in the "real world," but they do give users the opportunity to test out testnet features of the Network without having to utilize real tokens from the mainnet.
In the current XDC Faucet, users need to paste their XDC address and click on the "Request 1000 XDC" button to receive the 1000 XDC tokens on the specific address. XDC Apothem Network Faucet uses https://rpc.apothem.network RPC to connect to the XDC Apothem testnet and https://devnet.apothem.network RPC to connect to the XDC Devnet.
The present XDC Faucet has the limitation that users are unable to claim a significant quantity of testnet/devnet XDC in a single click. For instance, if a user requires 1 million XDC to test out some features on the XDC Network, it would take them 1000 clicks, which is a difficult process.
BlocksScan brings a new platform for XDC Testnet/Devnet faucet namely BlocksScan Faucet, where users can claim any number of XDC with a single click and a post on Twitter. The process to receive 1000 XDC is the same, enter the wallet address and click on the "Request XDC".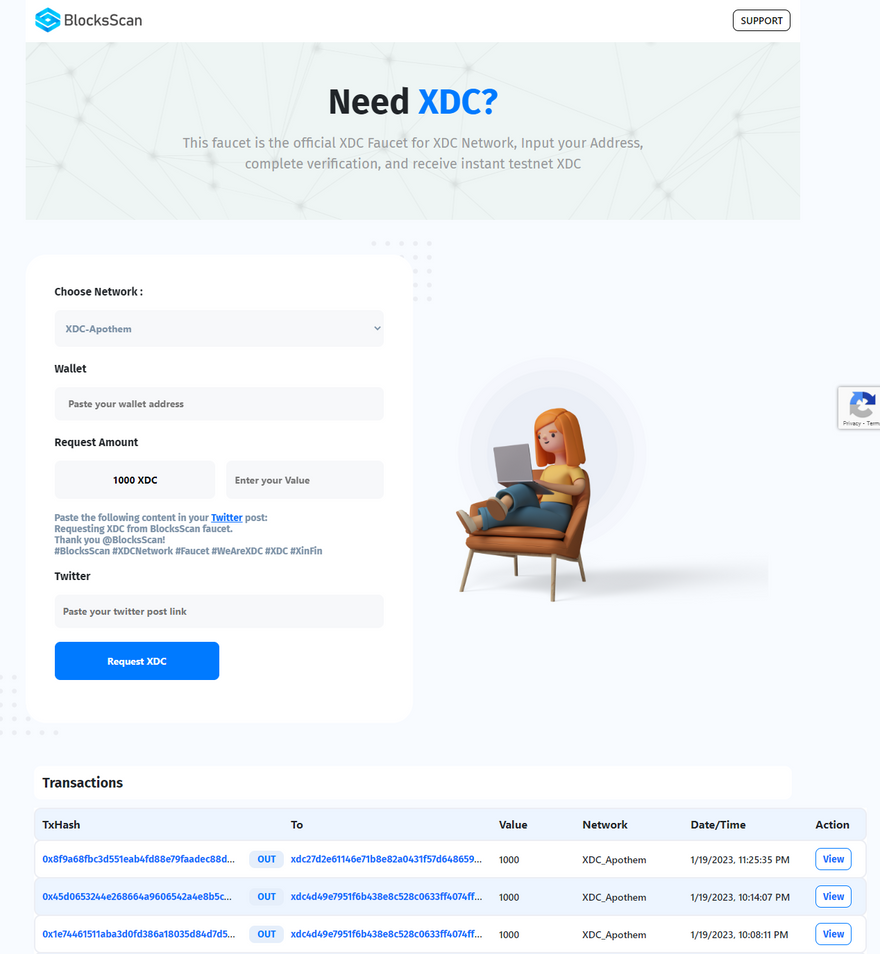 If user requires more than 1000 XDC then they need to follow below steps:
If a user wants more than 1000 XDC-Test tokens up to 100k XDC-test tokens, they need to do a Twitter post by tagging BlocksScan(@blocksscan) with the hashtags, #BlocksScan #XDCNetwork #Faucet #WeAreXDC #XDC #XinFin #BlocksScanFaucet.
If a user wants more than 100k XDC, they need to share a post on XDCDev with details along with their wallet address. The team will review the request and send you the requested tokens ASAP. (Coming soon…)
The team is also planning to extend the functionality of the BlocksScan Faucet application to provide XRC20 tokens using the same Faucet application. So that user can select whether they want to request for Test XDC or XRC20 tokens altogether in a single platform.
Current BlocksScan — XDC Faucet is in Beta Phase, you can share your feedback by commenting below. Thanks for the community support towards the BlocksScan Applications.
Follow us to know more updates: