We are thrilled to announce the launch of WeFi Beta Dapp on the XDC Testnet Network (Apothem Network) due to its impressive scalability, high performance, and seamless interoperability with other blockchains. The XDC chain offers fast transaction speeds, low latency, and advanced security features. Additionally, the vibrant XDC community provides valuable feedback, enhancing the development of our Dapp.
WeFi Beta Testnet Warrior Campaign
As part of this milestone, we're inviting users to participate in our "WeFi Beta Testnet Warrior Campaign," a unique opportunity to explore our revolutionary Omnichain leveraged trading protocol built on LayerZero.
Campaign Highlights:
Prize Pool: 200,000 $WEFI tokens, with 1000 winners.
Campaign Duration: From 21st September to 21st November, spanning a two-month period.
Campaign Tasks:
Complete the Campaign on our Galxe Space
OR
1) Join Our Community
2) Like and Retweet
🔗https://twitter.com/wefi_xyz/status/1711278583048556580
3) Test the WeFi Testnet: Dive into the WeFi Testnet and make at least one transaction on the XDC chain testnet.
🔗https://www.beta.app.wefi.xyz/
4) Share Your Experience: Share screenshots of your transaction(s) along with your wallet address and provide feedback on our discord channel. Your valuable input will help us refine and improve the WeFi platform.
🔗https://bit.ly/testnet-feedback
5) Fill the google form (Must Required)
🔗https://forms.gle/cwk4TiMxJ1MkkWXq9
How to Use Testnet - Steps
For a step-by-step guide on navigating and using WEFI's newly launched testnet on the XDC Apothem network, please click on this link for a detailed walkthrough. Additionally, we also have a video tutorial available.
Request Test token
1) Navigate to https://www.beta.app.wefi.xyz/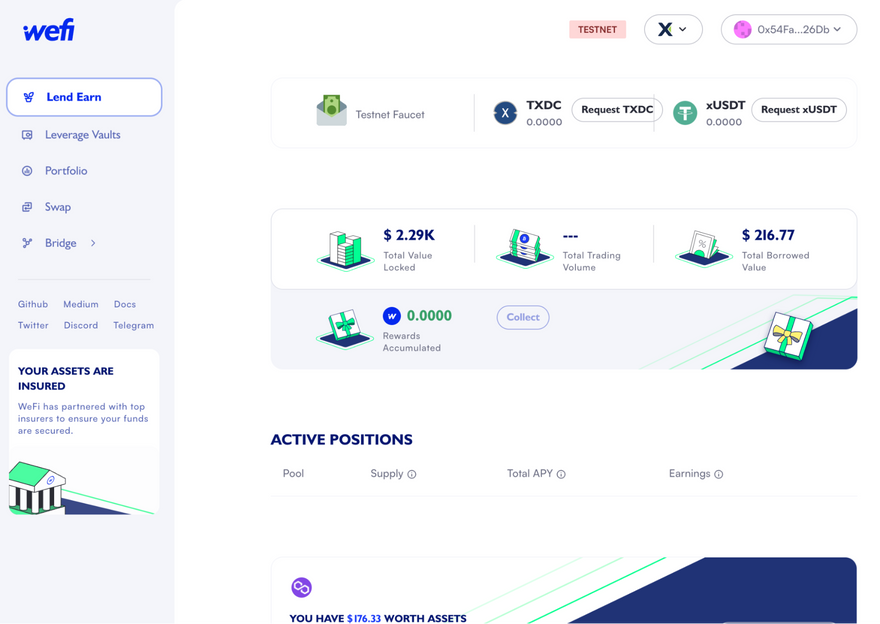 2) Connect your wallet address and select Apothem Network from the dropdown for testnet chains.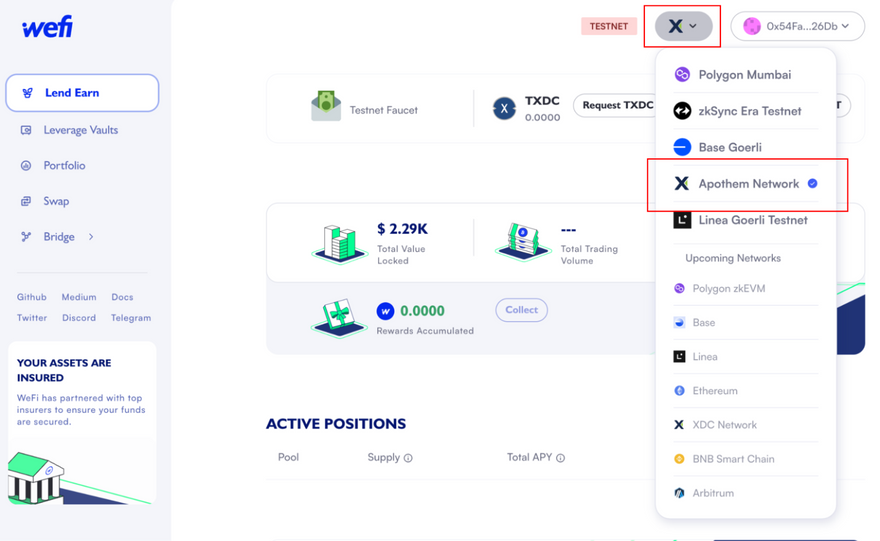 3) Click on "Request TXDC" to request Faucets from XDC Apothem Network. (if copying the address from Metamask, replace the first 2 characters "0X" in the address and replace with "XDC". After Verifying an easy CAPTCHA, Click on "Request 1000 XDC and approve on MetaMask.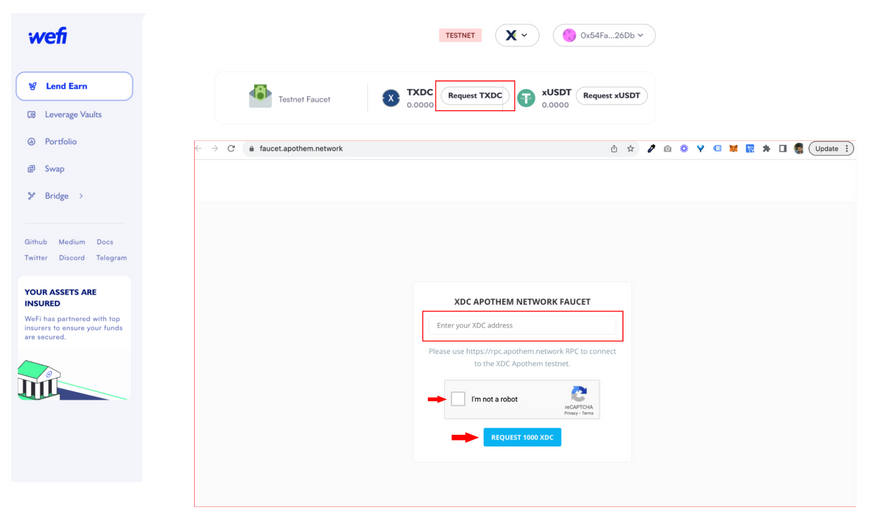 4) Click on "Request xUSDT and approve on MetaMask to request xUSDT faucets.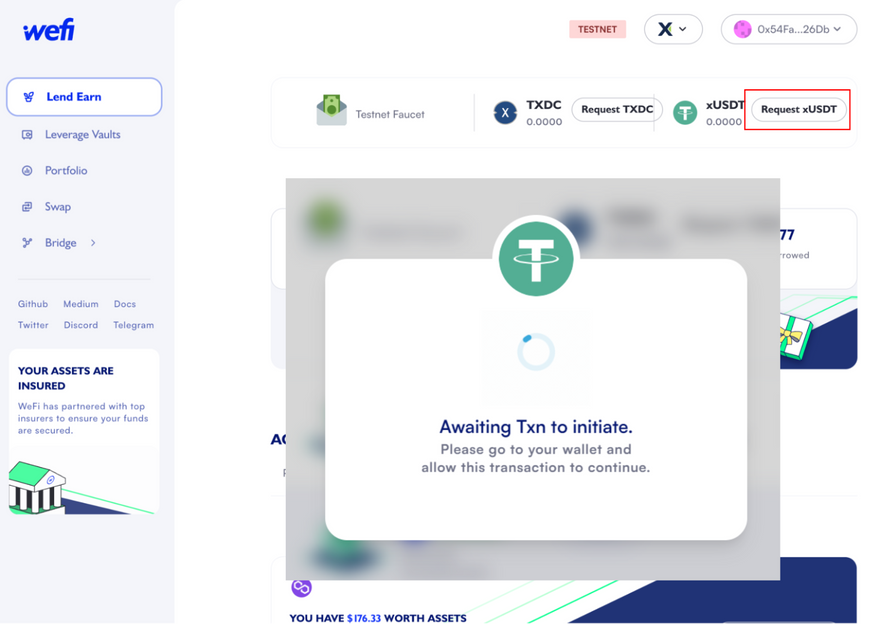 Test Lend Earn Feature
1) Go to the "Lend Earn" feature, Navigate to the "ALL POOLS" section and select a pool you want to Lend in, Click "Supply" to supply liquidity to the available xUSDT pool.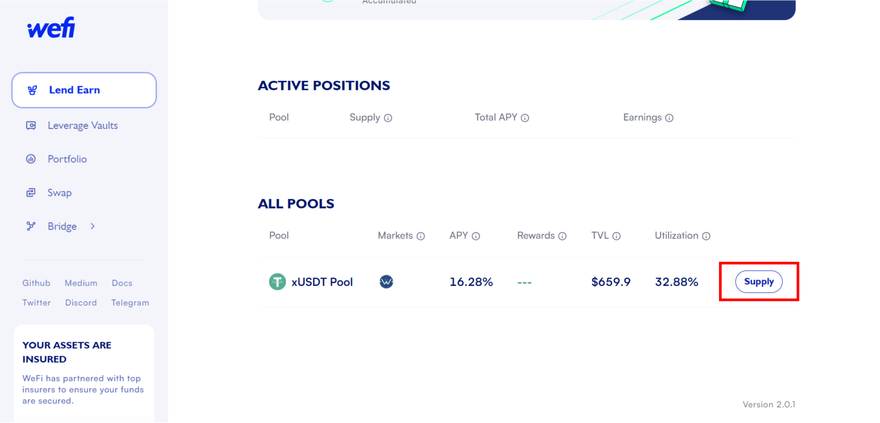 2) Insert the amount you want to supply from the available balance. Click on the "Allow Spend" Button, approve from your metamask wallet and Click on "Supply to Pool" After, at last click on Done. Now you can check "ACTIVE POSITIONS" on the home page verifying your supplied liquidity and earned APY.


Test Leverage Vaults
1) Go to the "Leverage Vaults" feature, Navigate to the "ALL LEVERAGE VAULTS" section and select a vault you want to trade in, Click "View Vault" next to it.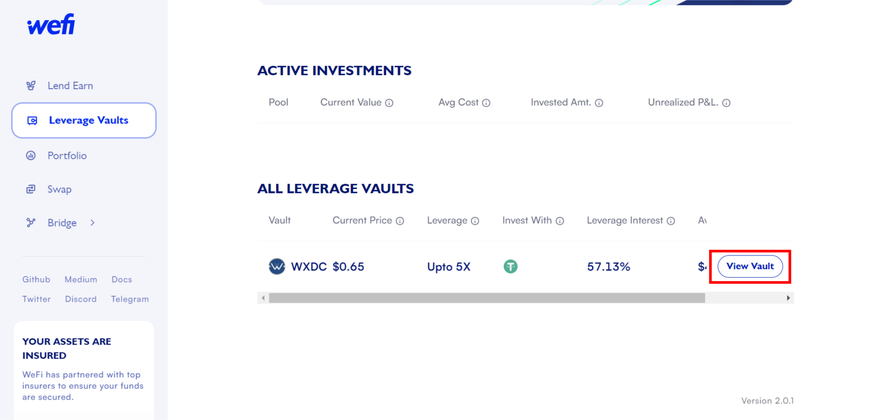 2) Under the Vault, you can see the graph and details of the token. To invest, go to Invest Section, and insert the amount you want to invest. Then Select the Leverage(upto 5x) you want to borrow. Click on "Invest", approve from the wallet and click on "Supply to Vault", after confirming with your wallet, you are all done.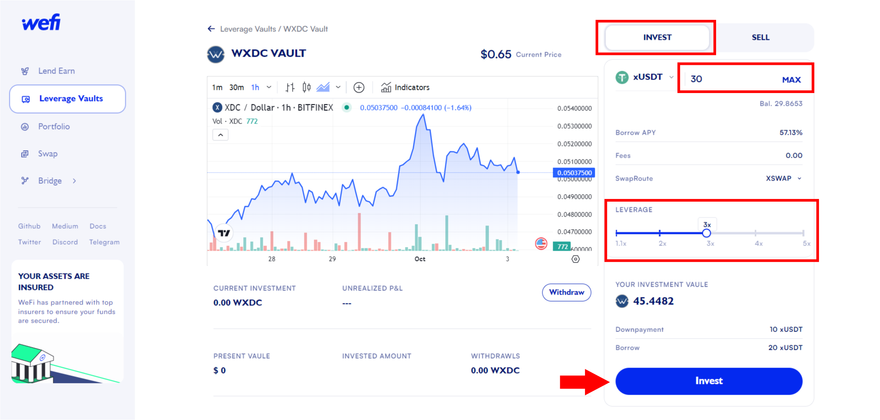 Go on "Portfolio" to view your supplied liquidity or Borrowed loan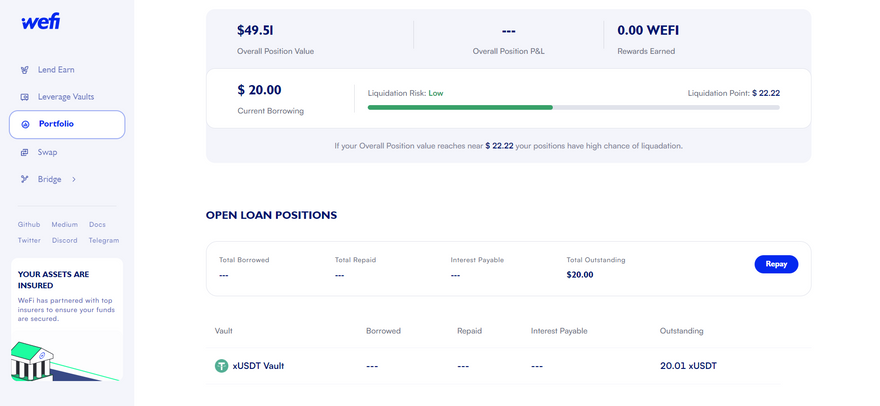 What is WeFi?
WeFi, short for "We Finance," stands as an Insured Omnichain leveraged trading protocol built on LayerZero. It unlocks a world of opportunities for DeFi users, offering features such as bridging, swapping, lending, leverage trading, and staking tokens. WeFi is meticulously designed to provide a seamless DeFi experience across multiple blockchain networks.
Features of WeFi Dapp on XDC Apotem Network Testnet:
At WeFi, we're dedicated to continuous innovation. Our upgraded Beta Dapp introduces these two features, including:
Lending: Access a powerful lending platform where you can earn interest on your crypto assets.
Margin Trading: Dive into the world of margin trading with confidence, thanks to WeFi's secure and user-friendly interface.
Why WEFI over other Leverage Trading platforms?
Insured — Our successful Audit and Insurance ensures your assets are SAFER than ever! We are audited by Pecksheild, Unore and Quillaudits and Insured by Unore.
Lending APY is currently at 250% on the polygon chain
Audited — 3 audits and continuous monitoring
Cheap cost of capital — 80% lower interest for margin trading
Perpetual — loans can be held for as long as users want
Transparent — All trades are on-chain and can be tracked on the blockchain
What has changed from the previous alpha in Beta?
As part of our commitment to delivering the best DeFi experience, we are proud to unveil an upgraded WeFi platform. Here's what you can expect:
New UI/UX: A totally new, sleek and intuitive interface designed to enhance the user experience. Enhanced portfolio view helps users easily track their individual positions and overall gains, gaining a better understanding of their investment portfolios.
New Features: Exciting additions and improvements to our existing features, giving you more options and flexibility. To ensure better swap rates and increased liquidity, WeFi integrated its unique auto router solution with multiple Dexes, allowing for liquidity pooling from various sources.
Faster Transactions: Enjoy lightning-fast transaction speeds, ensuring that your DeFi activities are swift and efficient.
Insurance with Enhanced Security: WeFi is fortified with advanced security measures to safeguard your assets and data.
Introduction to USDC — the integration of USDC stablecoin allows users to choose the stablecoin with the lowest interest rate and access more token pairs on supported DEX platforms.
Why XDC Chain?
We chose XDC (XinFin Digital Contract) for several compelling reasons:
Scalability: XDC offers impressive scalability, ensuring that our WeFi Beta Dapp can handle a large number of transactions efficiently and without congestion.
High Performance: The XDC chain boasts high transaction speeds and low latency, ensuring a smooth and responsive user experience on our platform.
Interoperability: The XDC chain's interoperability with other blockchains allows for seamless integration and communication between different networks, enhancing the overall functionality of our WeFi Beta Dapp.
Security: The XDC chain is secured by a robust consensus mechanism and advanced cryptographic techniques, providing a secure environment for testing our Dapp's features and functionalities.
Community Support: The XDC community is vibrant and supportive, providing valuable feedback and insights that aid in the development and improvement of our WeFi Beta Dapp.
DEX USED on XDCTestnet:
Xswap: AlphaEx is a decentralised exchange on the XDC network, allowing users to trade various cryptocurrencies securely.
Tokens Used on XDC Testnet:
XUSDT
WXDC
After the XDC Testnet period concludes, WeFi's official launch on XDC is scheduled 15 days later. We are excited to bring our advanced DeFi platform to the XDC community. When mainnet launches, Users will be able to leverage trade XDC, ETH, BTC and other tokens provided these tokens have liquidity on XDC network Dexes.