Have you been hurt by the crypto market events during 2022? It was all about broken hope, hollow promises, and failed ideas along with insecurity, uncertainty, and a loss of trust. Many projects and prospective coins layered the graveyard of the cryptocurrency foundation, just to further fuel the exodus to the once-undervalued good old fiat-backed solutions. Algorithmic stablecoins now feel so last year.
Moreover, in the event of the decay of Terra's, 3AC, and a group of other former crypto headliners, STASIS-issued stablecoin gained more clients than in the previous year. 2023 started with volatility and won't be easy on all levels, but the safe stablecoin harbor of EURS is always open for stability seekers.
Shielding from volatility, opacity, and rugpuls has never been so vital before. Recent events reinforce the need for transparency, and the XDC community is one of the few crypto communities that has quickly recognized this.
The crypto titanic is sinking while the stablecoin yacht is floating well
We've witnessed the downfall of crypto titans. In such conditions, users can't escape a rising feeling of paranoia every time going on a crypto journey. Unshakable fortresses began to crumble and eventually fell into oblivion, dragging their leaders into the abyss.
The cryptocurrency industry just fell into the same trap brought by the conflict of interests inside the colossus of the crypto market FTX. Capitalism and profit maximization inevitably leads to human greed.
History doesn't repeat, but it rhymes: 100 years ago, the US stock market experienced an ICO-kind rush of offerings together with the actual Charles Ponzi event that led to the creation of the Glass-Steagall Act, the SEC, CFTC, and Howey security test.
What is EURS? A supreme digital asset
STASIS is a European financial technology firm that develops customer-friendly instruments to enable institutional and retail customers to manage digital currencies and public blockchains for payments and settlements, e-commerce, and DeFi.
Five years ago, STASIS was started with the idea of separating the conflict of interests between Tether and Bitfinex and enforcing mandatory transparency for reserves through external auditors. The team spent time educating regulators, publishing two books on regulation for digital assets across 18 countries, and helping the community climb the DLT learning curve across crypto conferences worldwide.
EURS is a blue-ribbon asset among stablecoins, originated in the heart of EU fintech production—Malta. Over time, STASIS has become one of the largest non-USD stablecoin issuers, with EURS products reaching a whopping $6B+ of transferred value to date.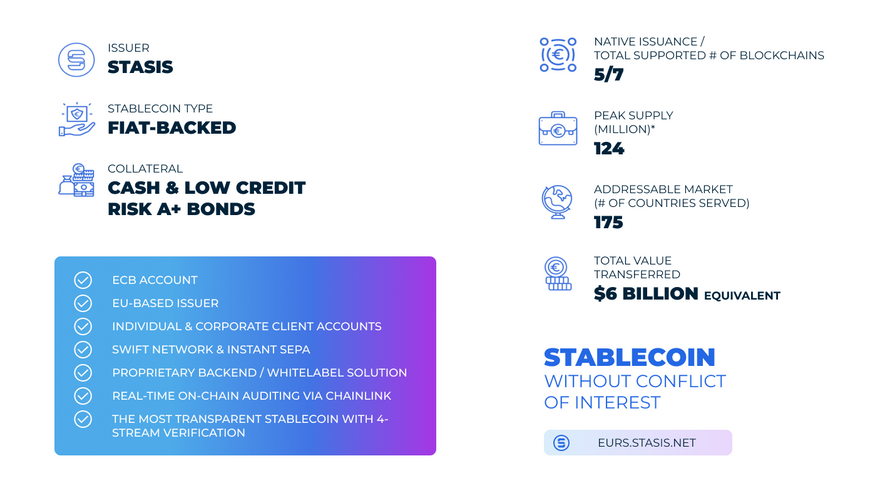 Currently, it ranks as a top-10 stablecoin globally, with a vast international user base from Latin America to Asia.
EURS is a virtual financial asset that reflects the euro currency, and it was developed with the assistance of global legal firms from Europe and Asia. It is the only stablecoin that utilizes multiple capital channels (SEPA, ISIN, SWIFT, ISDA).
Most cryptocurrency holders are subject to significant volatility and counterparty risk. EURS mitigates these risks by letting users hold a stable digital asset transparently backed by euro reserves. Moreover,EURS is the only euro-backed stablecoin today that enables multiple distributed ledgers and unique features not present in other assets. EURS has developed an in-house white-label API for crypto-to-fiat settlement in Europe with API infrastructure live on Ethereum, Algorand, Ripple, XDC, and Polygon, with several other blockchains in development.
EURS is audited by the top5 global audit firm and has accumulated the community's trust and accountability.
Being totally transparent, STASIS makes investors confident that their digital assets are fully backed by the appropriate collateral, such as daily account statements, monthly verifications by BDO Malta, quarterly audits by BDO Malta, and on-demand verification for an onboarded entity.
Next, EURS is the DeFi-centric stablecoin, which successfully competes with the biggest euro-denominated staking pools. Being the asset that provides lucrative yields in decentralized finance protocols, it continues to be a more appealing asset for those who wish to capitalize in a newly emerging field.
Zero U.S. Risks for EU-based product
The general user may not be aware of the number of risks involved when entering the territory of this emerging digital asset class. By picking EURS, you can be sure that you are protected from pitfalls in case of another risk event.
EURS is the only euro stablecoin with no conflict of interest or additional risks related to taxation. The difference lies in the European and U.S. tax systems. By choosing EURS, the user gains exposure to pure digital euro unchained from U.S. regulatory risks, as neither STASIS company has any USD exposure nor accounts denominated in this currency.
STASIS treats possible conflicts of interest very carefully, and it was a conscious team's decision to follow the applicable law — in the event of a full backward audit, they are confident that all transactions can be properly reconciled. Sooner or later, there will be some EU regulation present — and STASIS will be the first to comply with forthcoming requirements.
A Swiss Gateway to DeFi
One can get EURS on XDC or other blockchains straight from the source — via our featured Sellback service. We highly encourage you to explore it.
Please see the guide on Medium or reach out to the 24/7 support team at support@scb.io should you encounter some problems!
Due to the simplicity of onboarding, reliability of jurisdiction, and quality of counterparties, STASIS has chosen Swiss-based SCB AG to delegate the EURS market's facilitation. No bank has yet refused to send/receive funds against this FINMA-licensed institution. SCB is a Trustworthy Swiss Exchange registered and bound by the laws of Switzerland, where crypto regulation is one of the most advanced in the world.
The onboarding process is free of hassle and won't take the extra time necessary to provide you with the top EU-grade services. You will receive timely assistance if you have any questions. A dedicated and highly experienced team works hard to ensure SCB customers have a smooth experience every time they dip into the digital assets world.
STASIS Plans for 2023
Next year will certainly favor STASIS and EURS as the need for transparency has significantly increased within the crypto industry. The team is working on multiple partnerships to broaden stablecoin usage on centralized exchanges & DEXes aswell as various services. The STASIS team will continue to develop EURS further and build more ambitious plans behind the scenes to remain paramount in the cryptocurrency realm.
With 1MM EURS issued in circulation on XinFin Network, our clients are already buying it. The STASIS team will further contribute to the development of the XinFin ecosystem, and partnership with DEXes is a first step towards this.
The STASIS team believes that making the crypto on/off ramp as convenient and flexible as possible is part of our mission. Our stablecoin will always offer you a piece of stability in this volatile crypto environment.
Subscribe to STASIS socials on Telegram, Discord, Twitter, Medium, and LinkedIn to stay tuned!
Read this article on our Medium channel