How do you go about accepting XDC as payments on your website NowPayments and Cyclebit make accepting XDC as payment easy. There's no better time than the present to consider allowing your customers the benefit of digital payment solutions. Accepting payment in XDC and a range of accepting XDC present several advantages for your business.
Many businesses that have already integrated NowPayments and Cyclebit as their XDC payment gateway have reaped the benefits of adding this method of online payment to their websites. It makes good sense to accept XDC as the increase in demand for these kinds of payments will fast-track you to maximize your business potential. Before you set out to find an XDC payment processor, it is also worth considering some of the main benefits.
Why Accept XDC?
Offering your customers the ability to accept XDC is an ideal way to enhance your business and increase your sales. These days, more and more people want to pay using XDC and we are now finding them more frequently included as a way to pay on the internet.
Offering cryptocurrency payment solutions provides an additional service to your existing customers and the perfect opportunity to attract new clientele who want to pay in XDC. They also offer a secure method of payment and cost much less than other modes of payment such as credit cards.
How to Integrate XDC Payments
Integrating an XDC payment gateway is, as we have seen, very straightforward. NowPayments and Cyclebit payment gateway is a technology that enables businesses to automate XDC payments while speeding up the transaction and eliminating the need for intermediaries. The technology used by NowPayments and Cyclebit allows for highly encrypted, secure payments which cost much less than traditional online payment gateways.
The procedure involves the use of smart contracts which are used to process and verify payments between parties involved in the transaction. Smart contracts allow for more transparency when conducting transactions and enhance the security procedure, making payments less susceptible to attacks which are reassuring both to businesses and clients.
If you are looking to integrate an industry-approved XDC payment gateway, CoinPayments and CycleBit is one of the leading providers in this space, facilitating crypto payments across the world.
More about NowPayments and CycleBit Payment Gateway
About Now Payments
NOWPayments is the cryptocurrency payment gateway founded by ChangeNOW in 2019. It is the easiest way to accept cryptocurrency payments and supports 50+ cryptocurrencies including XDC, Bitcoin, Ethereum, and many more. They have headquarters in Amsterdam, North-Holland. NOWPayments is a crypto payment gateway that lets you accept XDC payments and donations in an easy and convenient way. Try this XDC payment gateway NOW! https://nowpayments.io/payment-tools
How does XDC payment work at NowPayments?
If You want to accept crypto for goods and services
Answer:- NOWPayments offers 16 merchant tools allowing to implementation of XDC payments on any website, service, or brick&mortar store.

If the Customer chooses to pay with XDC?
Answer:-NOWPayments will give your customers the list of 100+ cryptocurrencies from which they can select XDC and use to pay for goods and services.

Who will generate a payment window for XDC Transaction?
Answer:- NowPayments will calculate the price in the XDC and provide payment details for the customer and create a payment window for XDC Transaction.

How can I convert XDC to cash?
Answer:- NowPayments offers a crypto-to-fiat solution.
How to accept XDC as payment at NowPayments?
First, you need to sign up for a NOWPayments account. The process shouldn't take more than a minute!

Go to Store settings. Add your XDC wallet and create a new API key.

Choose the tool to add to your checkout.

The integration will be active on your website, and you're ready to accept payments in XDC!
If you have any questions regarding the NowPayments please contact the NowPayments team at support@nowpayments.io
About CycleBit
Cyclebit is one of the largest POS and payments providers in Eastern Europe and Southeast Asia. Launched in 2012, the company provides in-store and e-commerce solutions to thousands of retailers, transacting over $1,5 billion annually. The senior management of Cyclebit consists of former employees of such companies as PayPal and Citibank.
In order to use the Cyclebit services and get the opportunity to accept XDC payments, you need to fill out this form.
From now on, any product can be paid for using XinFin Digital Contract ($XDC) tokens, with the whole transaction taking just a few seconds.
Spend XDC tokens at any store, restaurant, or other establishment supporting the technology means excellent flexibility and convenience. The transaction is fast, easy, and user-friendly.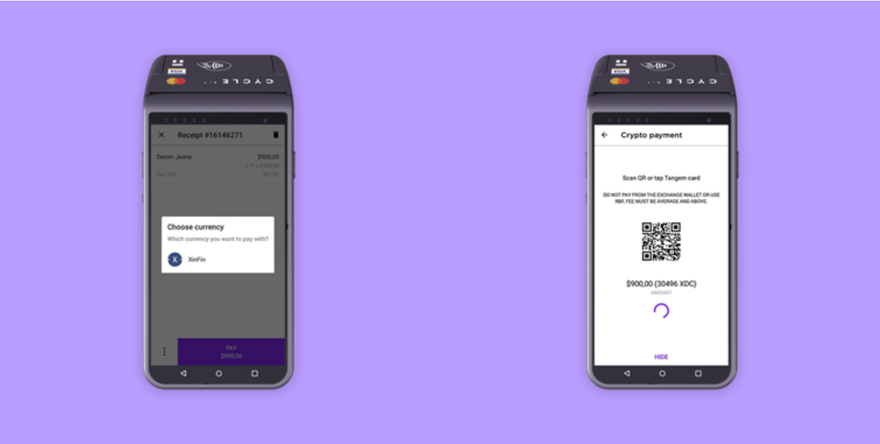 After you send us the completed form, we will create an account for you and provide login details.
Two products are currently available: Cycle POS and Cycle Online
Cycle POS:
For Cycle POS, you will be provided with several one-time Activation Codes (one for one device), a Password, as well as authorization data for your processing account — Email and a Secret Key.
Download and install Cycle POS app from Google Play.
Open Cycle POS app
Tap "Activate" -> "Setup" -> give all permissions if needed.
Enter one Activation Code.
Tap "Continue"
Enter the Password provided to you.
Go through the following tabs.
Set the short access code -> "Save".
Tap "Settings" then go to the "Payment method".
Tap "Activation" another one time and enter your processing login details (Email and Secret Key).
Done!
Now you can accept XDC through the "Selling goods" tab in the main menu
Cycle Online:
For Cycle Online, you will be provided with an Email, a Secret Key, and a Server Secret Key.
The plugin can be installed through the WordPress plugins store inside your WordPress Admin Dashboard (just find "Cycle Online For WooCommerce"), as well as downloaded and installed manually from here.
After the installation in WooCommerce payment settings, you will need to insert the received authorization credentials and your customers will be able to perform payments via Cycle Online.
Dashboard:
You will also be provided with login credentials for the Cyclebit Dashboard.
In the dashboard, you will be able to track all your successful and unsuccessful payments made through the Cyclebit processing platform.
If you have any questions regarding the CycleBit Payment Gateway join the Telegram channel https://t.me/cyclebit