The future belongs to those who believe in the beauty of their dreams. -Eleanor Roosevelt
The co-founder of XDC, Mr. Ritesh Kakkad visited Plugin's office at SRTIP Sharjah and the team had an opportunity to have a discussion with him and share Plugin's current happenings and future plans.
Few highlights from the meeting,
Plugin Data Feeds: The meeting started with an introduction of the team members followed by the display of Plugin's data feed, with the index pairs. We also displayed the video created to showcase the benefits and use cases of Plugin data feeds which is also available here – https://youtu.be/-YFspGx4YHE. Ritesh provided some valued feedback on categorising the video based on the user segment. He also suggested creating video-based information for Plugin documents to make it easily accessible and explainable for the end users.
Plugin Ticketing Platform: After the showcase of real-time Plugin Data feeds, we presented him the data about our tickets and the improvements on the SLAs. We explained the importance of the enhancements to the ticketing platform in our roadmap and he suggested an industry best practice for FAQ documents to create an interactive and intuitive search mechanism for the users to narrow down the response to their queries easily. The team has begun R&D based on his recommendation.
Plugin Roadmap 2023: - The core of the meeting was on the 2023 roadmap of Plugin, where we unveiled our roadmap for 2023, which has a brief summary of all our upcoming projects and provided information about the initiatives and projects in our pipeline. Plugin roadmap is also made available on our official Twitter account and can be accessed here https://twitter.com/GoPlugin/status/1615706067199201281?s=20&t=uopdY7i2Yyt5TpZOdcUwOg
PLUGIN 2.0: The next session of our meeting was on discussing the PLIP. While we are working on bringing in innovative and breakthrough DApps, the prime focus is still on improving the Plugin core and PLIP is a result of our efforts towards strengthening our decentralized oracle network. Plugin's new improvement protocol categorizes the node operators into three buckets based on their responsibilities to increase network stability and onboard new node operators with recommended infrastructure. More details about the same will be unveiled to our community in the coming days on our official social media handles and the links are provided below for you to follow and stay updated on our progress.
DApps Demo: Team members had an opportunity to showcase their work to Ritesh and here is a brief summary of the DApps we showcased to him
Plugin Emergency Care Connect (ECA) - An end-to-end flow was showcased using the DApp. The QR code was scanned from one of our team member's phone, we are able to demo the live call and message going to the caretakers(simulated with another team member's phone). Data privacy and security are given the top most priority in this DApp.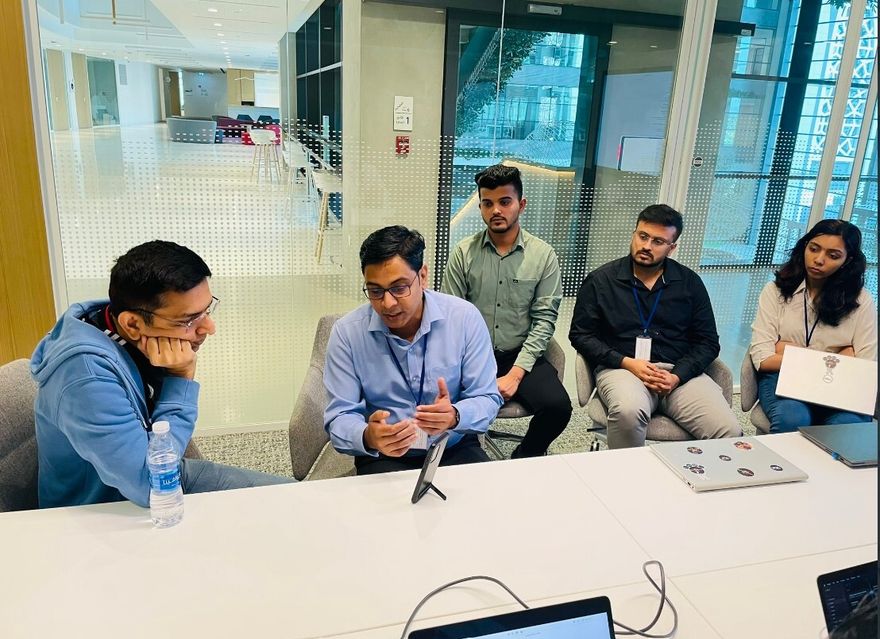 Plugin's XDC Eco Drive - Another new socially impactful idea from Plugin was demonstrated to him with a short presentation followed by a flow of the process in the new user interface. This will be a breakthrough carbon offsetting project that can reduce vehicles' fuel consumption and greenhouse gas (GHG) emissions by an average of 5.5%.
Intellectual Property Rights (IPR) - We presented our idea and working model of a world-class IPR platform in the XDC network. This DApp will support researchers, innovators, academic institutions, and business owners in fostering and safeguarding their ideas. The blockchain-based platform serves as a medium of truth and enables the peer-to-peer and highly reliable source of data.
Fractional Real Estate leveraging Plugin - Finally, we presented Plugin's idea to develop an intuitive marketplace for fractionalized assets wherein property or an asset is tokenized allowing multiple people to own it simultaneously on which Ritesh provided insightful suggestions on involving regulatory and government bodies in advance since this involves finance and real estate domains.
On the whole, there were brilliant suggestions from Ritesh and he suggested us in taking part in the demo days organised by various communities and attending the tech meetups. Plugin team was also invited to XDC's new meetup space, for a visit and active participation in the events and demo days organised by the XDC community.
The links to our official social media handles
Feel free to leave your comments/feedback here.