Vscience aims to decentralise science funding by offering alternate funding mechanism for researchers using IP-NFTs. IP-NFTs turn the intellectual property, ownership, and underlying data into a single transactable unit. We aim to bring different stakeholders with common goals in a single community and empower them to make key decisions in a decentralized way.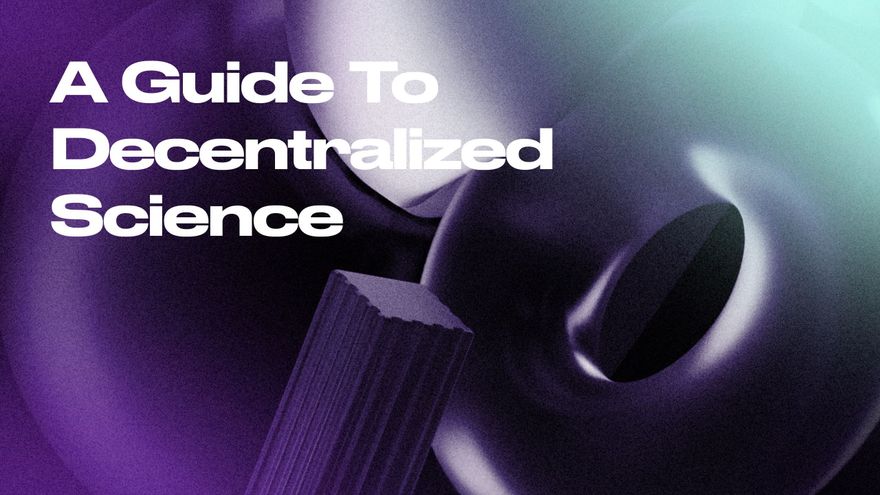 Decentralized Science or DeSci is one of the newest real-world applications of blockchain which empowers scientists to address the critical issues plaguing modern science, such as funding, peer review, publishing, intellectual property, and copyright ownership. DeSci can enable a more decentralized funding and research commercialization model that is resistant to censorship and free from the control of a few organizations and corporations. It promotes open science, encourages scientists to undertake breakthrough research, and creates incentives for scientists and the public to become a part of science research.
What does Vscience do?
Vscience enables researchers to raise funding for their research using IP-NFTs. IP-NFTs tokenize the real-world assets of the researchers – their discoveries. Using IP-NFTs, we merge legal contracts, research agreements, and data with smart contracts. These IP-NFTs will prove legal ownership, and transactions, and allow controlled access to underlying data.
This digitization turns IP-NFT into a single transactable unit that encompasses all the information pertaining to the research. It can be transferred seamlessly, opening newer avenues for funding research and utilization of intellectual property.
Everything in the research space is centralized with no power given to two main stakeholders – researchers and patients. With DAOs, we aim to bring different stakeholders with common goals in a single community and empower them to make key decisions in a decentralized way. A decentralized ecosystem is vital to ensure that the future of science and humanity is not controlled by a few individuals.
Vscience will empower patient communities to become a part of funding and become actively involved with others working towards the same goal. From patients and families of rare forms of cancers to autoimmune conditions, everyone can become part of communities working towards a common goal.
Eventually, Vscience aims to become a complete end-to-end eco-system for biopharma research with different stakeholders being part of the platform. Exchange of research data, peer publishing, bringing contract research organization on the platform, and creating a wider community will all be part of Vscience.
How Does It Work?
New Idea - The researchers propose a new idea of research by providing information about the research project such as summary, goal, research done so far, any data, etc.
Then there is an expert panel also part of the community who analyse the research idea. A presentation is given to them followed by a Q&A. Any available data needs to be shared with them. This expert panel decides whether the project is feasible, and required and whether it can be commercialized.
Community - Once approved by the expert panel, the idea goes to the broader community for voting. The community can then vote if they would like to fund the research idea.
Funding - Once approved, the funding is locked to be disbursed in stage stage-wise manner as and when research milestones are hit. The researchers can raise funds without bureaucracy and in a short period of time. The patient community and ordinary citizens now have the possibility to fund science research, support the cause they believe in, partially own an IP, and collectively make decisions about the IP.
IP-NFT - Meanwhile, the IP-NFT is minted. The data of the research will be restricted and available only to the owner of the IP-NFT. The researcher has now essentially used the IP that will be generated when the research is completed in the present moment to raise funds.
As the research progresses, the IP-NFT is commercialized by selling the IP to pharma companies, or the researchers themselves can turn it into a biotech company. A partnership with a government agency or pharma to further develop the drug candidate can also be explored at this stage.
Reinvestment – A portion of revenues generated by commercialization of the IP goes back to the DAO. The DAO can further fund other research projects, and a self-sustainable cycle of research funding is set in place.
Within a few years, the DAOs should have a wide portfolio of sponsored research and exposure to the potential IP. This will eventually result in a parallel funding mechanism to traditional methods, but one which is driven by the researchers and people without opaque centralized decision-making.
What We've Built so far
MVP
Our journey began in June of 2022 with the idea of changing the way science is done and how funds are raised for research. We began with extensive market research. We conducted interviews, held 1-to-1 discussions with researchers, and understood the problems faced by the researchers. From the US in the West to India in the East, getting a research grant is a highly centralized and opaque process. An alternate funding mechanism is the need of the hour to ensure science advances.
Our MVP empowers researchers to raise funds using the IP-NFT. This IP-NFT contains information about the research and the legal agreement. It tokenizes the research data and outcome of the research enabling the creation of an NFT backed by real-world assets. This IP-NFT can be seamlessly transferred to the DAO or can be used to further share/denounce ownership of the patent.
Successful Pilot
We successfully completed a pilot with a researcher from one of the top universities in India and among the top 1000 globally. The researcher minted the first IP-NFT ever in India and the first on the XDC Network. The researcher received 100k INR for the first phase of the research.
The objective of this research is to screen the in-house probiotic organisms for their immunomodulatory effects and identify the hits for cancer palliative care. The research is aimed at developing prebiotic, post-biotic, and para-post-biotics for cancer patients and survivors to improve their quality of life.
The immunomodulatory properties of the probiotics will be studied on human gastrointestinal cell lines. The properties will be gauged based on the expression of various pro and anti-inflammatory cytokines. Similar protocols will be conducted on in-house Paraprobiotics and post-biotics.
The IP-NFT can be found here - https://xdc.blocksscan.io/nft/xdc821e619d95975c9f2ad9ca202669bf55e8afadc0/1#token-transfer
The researcher who participated in the pilot has completed her PhD from the Department of Chemical and Biological Engineering at the University of British Columbia, Canada. During her PhD, she had worked on development of cannabinoid biomanufacturing platform alongside a pharmaceutical company resulting into two patented technologies.
What Next?
With the experience we gained while conducting the pilot, our next goal is to start developing the complete product. A complete product will have all the features required by the researchers for seamless usage of the platform. Technical, legal, and knowledge infrastructure would have to be created to make it user-friendly and legally compliant.
The focus will also be on finding and encouraging researchers who will take the lead in creating 3-4 DAOs. Each DAO will then work towards a specific area of research and eventually take the role of a decentralized community making key decisions. Within a few years, these DAOs will become completely self-sustaining.
Participating in industry events and conducting our own industry events will be undertaken to grow the community and reach the target market.
Summary
The biopharma and science research space has not seen breakthrough advances or even simple changes since past few decades. This is mainly due to centralized decision-making, relying on outdated methods of evaluation, and the slow pace at which bureaucratic wheels move. Using blockchain, NFT, and DAOs, Vscience aims to provide an alternative that benefits everyone involved while helping advance science research.
Utilizing the eco-system built by Vscience:
Researchers - The researchers and scientists will have an alternate funding mechanism that does not rely only on legacy evaluations such as published papers but promotes independent and innovative research. The access to funds is also quicker after approval contrary to the present scenario where multiple follow-ups are required to even get approved funds disbursed.
With IP-NFT, the researchers can transact the entire research data, legal rights, and ownership within minutes. This creates a new class of assets and results in NFTs backed by real-world intellectual property. The DAOs which are focused on a specific research area such as Oncology or Nephrology enable like-minded scientists and patient-community to come together. Greater collaboration can help in rapid breakthroughs.
Patients – Today, tax dollars are used by the governments to fund science research. However, the taxpayers have no say in which research gets funded and do not earn returns if the funded research were to be commercialized. Vscience, changes that!
With Vscience, patients and citizens have the potential to allocate funds to support causes based on individual choices. Someone who is passionate about oncology or Alzheimer's can fund research in that area while having a greater say in decentralized voting mechanisms and standing a chance to generate returns.
Vscience is also a step towards wider adoption of the XDC Network. Besides the Web3 users, we onboard researchers and non-web3 users on the XDC Network with a different appeal. Vscience will attract users who are in for the long game and wish to utilize the network for real-world applications and impact.
Grant Application Details
Company: Vscience
Email address: team@vscience.io
Grant Category: Applications and integrations
Team:
Hemal Vora (TG- CSBond) - Hemal has completed his bachelor's in pharmacy and is a registered pharmacist. Coming from the pharma industry, he understands the nuances of the biopharma industry and has connections in the industry. He also has been in the Web3 industry for over 6 years. He is himself at the intersection of science and Web3, which is what we are trying to achieve with Vscience.
Jimit Shah - Jimit is an entrepreneur and has been successfully running a web development company for over a decade. He understands project development and management which is a key skill required to accomplish a well-oiled product. He also brings people management skills which are required to efficiently grow a team. Being an entrepreneur with over a decade of experience, Jimit has contributed to the successful launches and global traction of diverse startups.
Mohit Dhiman (TG- C'est La Vie) - Mohit has been in Web3 for about 5 years. He has been working with the XDC Network in managing the community and developer relations.
Hemal and Jimit are solely dedicated to the project. Mohit is also managing XDC community and one more project.
Budget:
Requested XDC amount: 1 million XDC
The Requested funds will be allocated as following:
Development - $35,000
Marketing and Outreach - $10,000
Legal - $10,000
We expect to liquidate the fund for legal and marketing. So, about 375,000 XDC tokens would have to be liquidated over a period of 3-6 months.
Sustainability:
Vscience over the next 2-3 years could see the first major commercialization of the IP-NFT. Biopharma deals run in millions if not billions, and this will bring a lot of on-chain activity. Our goal is to build a product and eco-system that brings real-world change by utilizing the Web3 infrastructure. The decentralization that we all love should reach scientific research which determines how well & how long our and the next generations will live in this world.
Vscience is a "for-profit" entity and we have a revenue model in place. While it would vary on a case-to-case basis depending on the research and university involved, Vscience is being built on a sustainable revenue model. We believe you can only do good for a long time if you are self-sustainable. A fully developed eco-system will have all forms of revenue options from immediate to long-term IP commercialization prospects.
So far, we have built the MVP and done the pilot by being bootstrapped. But, for this to turn into something big that changes the world and bring more real-world utilization of the XDC Network, we need funding. So, I urge everyone to please review this proposal, ask any questions you may have, and vote. Let us change the world for better and generate returns while we are at it!
Vscience website - https://vscience.io/
Cast your vote in the discussion section below:
Voting START date: Monday, September 18, 2023, 13:30 GMT
Voting END date: Wednesday, September 29, 2023, 23:59 GMT
In favor of proposal, submit "Vote = YES"
Not in favor of proposal, submit "Vote = NO"