introduction
This tutorial will show you how to access your Xinfin XDC Network (XDC) account with your Ledger device and MyCrypto wallet on your desktop computer.
The XDC Network app is developed and supported by the XinFin community.
Important information
This guide is for those creating their first XDC account or accessing an existing account created with MyEtherWallet.

XDC accounts created with MetaMask are not included.
Prior to starting
Update Ledger Live through the notification banner or download the latest version.

Update the firmware on your Ledger Nano S / Nano S Plus / Nano X.
On your Ledger device, download the XDC Network (XDC) application.
Start by connecting and unlocking your Ledger device.
Launch Ledger Live and select My Ledger from the menu.
Press both buttons on your device at the same time to grant access to My Ledger, if required.
Click Install after finding the Ethereum (ETH) app in the App Catalog in My Ledger. The Ethereum (ETH) app must be installed before the XDC Network otherwise Ledger Live will return an error 0x6811.
Click "Install" after searching for the XDC Network application.
This step has been completed.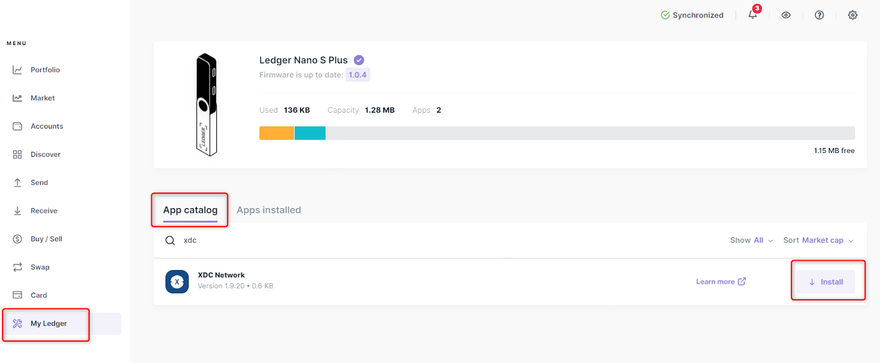 Through MyCrypto wallet, create or access your Ledger XDC Network account.
Connect your Ledger device to your computer. Then unlock it
Shut down Ledger Live and open your browser to app.mycrypto.com.
Go to Add (left-hand column) and choose Ledger from the website.
On your Ledger device, navigate to the XDC Network app and press both buttons simultaneously to open the app. Your Ledger device displays: Application is ready.
Return to MyCrypto and choose "XDC Network" by scrolling down.
Choose Next.
Select Connect to Ledger Wallet on the following page while the XDC app is open and your Ledger Nano is unlocked.
These addresses will be listed here if you have already funded them. Make sure to turn on Show empty Addresses if you're accessing your Ledger XDC account for the first time.
Click Add (1) account after choosing the accounts you want. Your Ledger XDC Network (XDC) account ought to show up in the dashboard.
To send XDC funds to your account, click the copy button to copy your deposit address to your clipboard
From your Ledger XDC account, send XDC.
Connect your Ledger device, unlock it, and launch the XDC Network app. Your Ledger displays: Application is ready.
Press the Send button in MyCrypto.
Select the token, the recipient address, and the amount to send.
When sending to another XDC network account, do you receive a "invalid address" error message?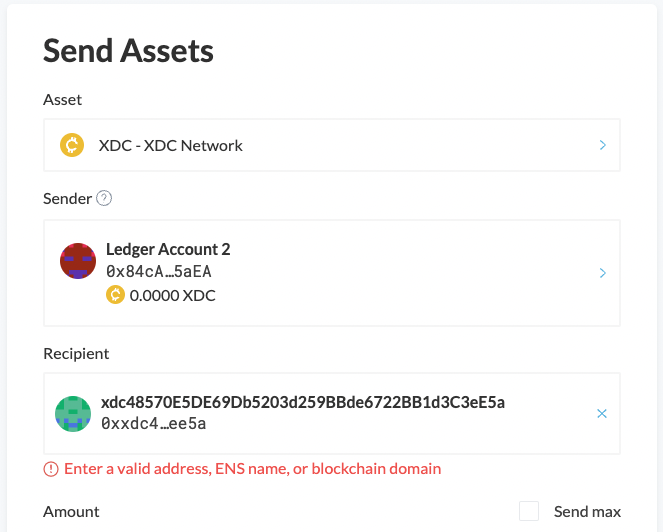 Seeing the above error message?
1.
If so, changing the prefix "xdc" to "0x" in the destination address will fix the problem.
To illustrate, consider the following example: xdc0762a5dd612c893(...)581d0a69e8eb9044a becomes 0x0762a5dd612c893(...)581d0a69e8eb9044a.
We strongly advise sending a small test amount if this is your first time doing this.
2.
After reviewing the transaction, click Next, then choose Confirm and Send.
Your Ledger shows: Examine transaction.
3.
Using the buttons, review the amount, the destination address, and the fees. If all looks good, select Accept and send and press both buttons simultaneously to sign the transaction.
MyCrypto displays: Transaction initiated.
4.
Click Close.
You're done!
Your XDC deposit will be reflected in the destination account once your transaction has been confirmed on the XDC Network. By selecting it in the transaction history in your MyCrypto wallet or by looking up the transaction hash at https://explorer.xinfin.network/, you can find out the status of your transaction.
Thank you for reading to the end. Hope this post helped you!