Project Description
India Hub for XDC will act as a one stop solution for handling the growth and fostering the developer ecosystem of XDC in India. Web3Sabha propose to setup the India hub for XDC.
About Team
Web3 Sabha is a pioneering community-driven platform dedicated to the awareness, education, and growth of Web3 ecosystems. Rooted in the principles of decentralized governance and community collaboration, Web3 Sabha brings together visionaries, developers, creators, and enthusiasts from around the globe.
Team has worked with top crypto projects like Aave, Polygon, Algorand etc. and have contributed in building strong offline and online communities using content, events and other innovative educational and awareness methods.
About Project
Our India strategy will be having the following major components:
Building college network:The college network of societies will be established which will act as the building ground for XDC in India.
Creator Incubation: Creators will be incubated for establishing long term content associations.
Innovative social media strategy: With the help of high engaging competitions, giveaways etc. we will take XDC to a large audience.
360 degree media campaign: We'll coordinate with all the leading KOLs and media partners for increasing outreach by exclusively featuring XDC.
DevStations:We will bring together developers at particular place and provide them all the amenities to build on XDC.
KPIs for Q1:
First Quarter
Setting up 10 plus blockchain societies
Reaching 1000 plus developers
8 offline events
1200 plus attendees
30 plus content pieces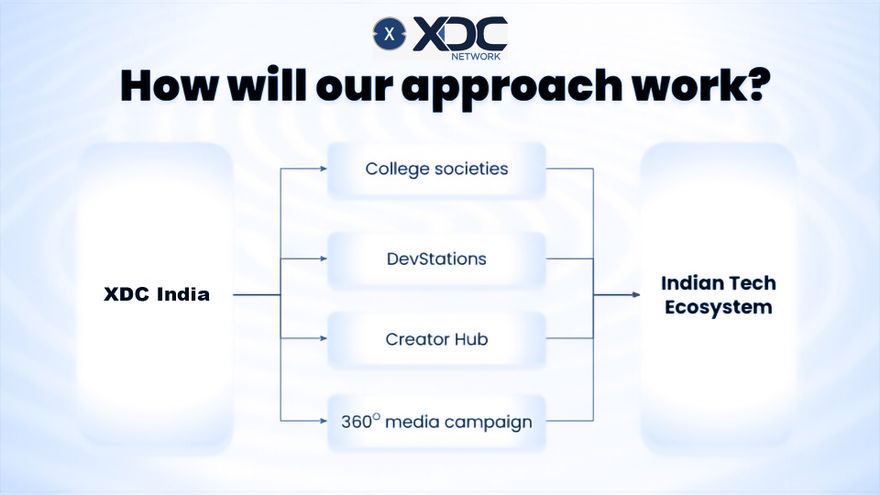 Funding Request:
We are requesting $25,000 for the first quarter and based on our performance we will request the funds for the next quarters. The funds will be used for organizing different events on ground along with hiring a dedicated team for running the India hub.