SBI Japan, a prominent Japanese company, is actively pursuing the expansion of its Web3 business offerings. With a focus on attracting institutional clients and providing crypto-centric services, SBI intends to leverage the capabilities of the XDC Network to strengthen its position in the Web3 domain. This article explores SBI's partnership with XDC and its commitment to driving innovation in the financial sector, transcending traditional boundaries.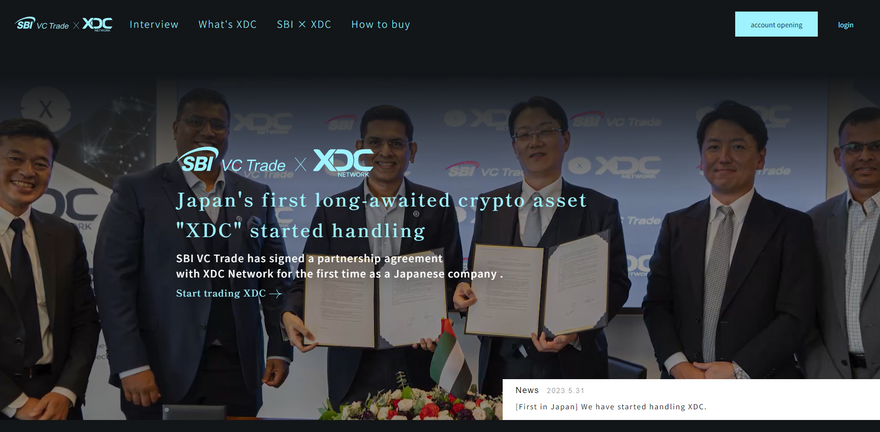 SBI Japan's Vision for Web3 Business Growth:
As SBI Group continues to evolve, the company is determined to pioneer new business domains, including Web3, both within Japan and internationally. By integrating innovative technologies and ensuring finance remains at the core, SBI aims to expand its offerings beyond traditional financial services and embrace the opportunities presented by the Web3 ecosystem.
Declining Crypto Revenue Fuels Embrace of Web3:
In its annual investor report, SBI Japan disclosed a decline in revenue from its crypto-related business. The figures revealed that during the period from April 2022 to March 2023, the company generated 30.3 billion Japanese yen, marking a year-on-year decrease of 45% compared to the previous year's 55.1 billion yen.
Diversifying with Web3:
In response to the decline in crypto revenue, SBI Japan has shifted its focus towards the Web3 sector under the category of "non-financial business." The company is now actively working to enhance its presence in this domain, aiming to expand its customer base and generate increased revenue. This strategic shift represents SBI's commitment to exploring new avenues for growth beyond the crypto assets exchange business facilitated through SBI VC Trade.
Leveraging XDC Network's Potential:
SBI's long-standing partnership with XDC demonstrates the company's intent to capitalize on the XDC Network's offerings and benefits. The XDC Network, powered by the XinFin protocol, presents a range of advantages that align with SBI's Web3 growth objectives.
Benefits of the XDC Network:
Scalability and Performance: The XDC Network's hybrid blockchain architecture ensures high scalability, enabling it to handle a large volume of transactions efficiently. This feature is particularly crucial for SBI as it aims to attract institutional clients and accommodate increased demand.
Interoperability and Integration: The XDC Network promotes interoperability, facilitating seamless integration with other blockchain networks. This capability allows SBI to explore partnerships and collaborations within the broader Web3 ecosystem, unlocking new possibilities and expanding its service offerings.
Cost Efficiency and Sustainability: One of the significant advantages of the XDC Network is its ability to offer lower transaction fees compared to other blockchain networks. The delegated proof-of-stake mechanism, known as XinFin Delegated Proof of Stake (XDPoS), secures the XDC Network while consuming virtually zero energy. This efficiency allows for reduced transaction costs, making it economically viable for users and businesses to participate in the XDC Network. This advantage aligns with SBI's goal of providing efficient and sustainable solutions to its customers.
XDC Network's EVM Compatibility: The XDC Network stands out as an EVM-compatible blockchain, which means developers can seamlessly migrate their existing Ethereum-based decentralized applications (dApps) and smart contracts onto the XDC Network. This compatibility allows for the easy transition of projects, fostering a broader ecosystem of applications and developers on the XDC Network. The EVM compatibility also ensures that the code written for the Ethereum Virtual Machine can be executed flawlessly on the XDC Network, providing familiarity and convenience to developers.
Conclusion:
SBI Japan's exploration of the XDC Network's potential for strengthening its Web3 business represents a strategic move to diversify beyond its declining crypto revenue. By leveraging the benefits offered by the XDC Network, SBI aims to expand its customer base, increase revenue, and remain at the forefront of the evolving Web3 ecosystem. With its scalability, interoperability, and cost efficiency, the XDC Network presents a valuable opportunity for SBI to drive innovation and establish its presence in the rapidly evolving digital landscape.
Check out the news about XDC Network Partners with SBI Group's SBI VC Trade Co. Ltd
https://www.sbivc.co.jp/services/crypto/xdc