INTRO
Staking XDC offers a new way of earning passive income, which is automated, affordable, and attainable for novice and advanced crypto users alike. Cryptocurrency wallets are the gateway to wider adoption as they are the first application that users interact with when investing in a robust platform such as XinFin. We are positioning Paygold as the next step in the evolution of DeFi with a vision toward greater crypto adoption.​
Paygold Is a next-generation platform that allows XinFin hardware wallet owners to seamlessly stake their digital assets 'offline' and passively earn rewards against their holdings.​
​
Crypto owners can stake XDC coins, all the while retaining their private keys and full control over their digital assets.
DeFi Market Potential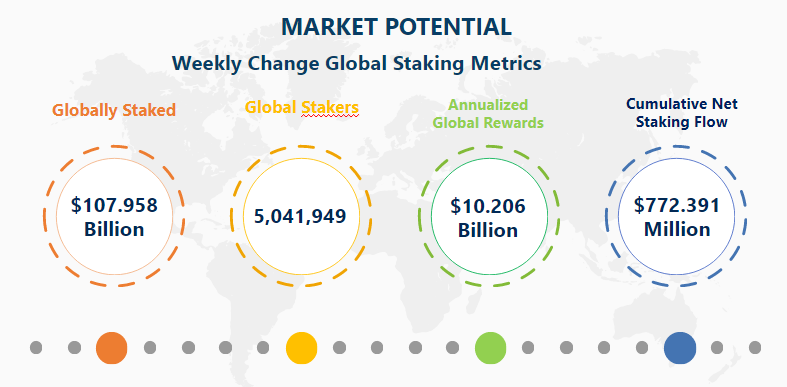 The Decentralised Finance world is an evolution within the blockchain and cryptocurrency industry as it brings a whole new opportunity for earning multiple passive income streams. ​
The decentralized finance industry has shown significant growth, becoming a multi-billion market with over $90 billion in total being locked up in various DeFi protocols as of January 2022. According to Dappradar, there were over 655,000 unique active wallets in all of the chains during the fourth quarter of 2021.​
The total market cap of the DeFi blockchain now stands at close to $80 billion. Despite this, it is still a long way from reaching the same level of market cap as Bitcoin and Ethereum – the two largest cryptocurrencies by market cap.​
Due to the increasing number of prominent individuals, governments and organizations adopting digital assets, the DeFi market is expected to grow further in the years to come. This is a great opportunity for crypto users and holders who are looking to gain a better return and tap into the earning opportunities that DeFi provides by taking advantage of cross-chain interoperability and composability.
What is a Crypto Hardware Wallet and why do you need one?
Hardware wallets hold users' funds and private keys as an alternative to keeping them on trading or exchange platforms. They provide a convenient, private way to transact and keep crypto assets safe.
In today's digital age, many staking platforms are based on online systems, which are vulnerable to hacking and other security threats. These threats can result in the loss of funds and a lack of trust on the platform.​
According to the Beosin Global Web3 Security Report 2022, of the 167 significant security incidents that occurred over the past year of 2022, those that had DeFi as their root cause were the most vulnerable. DeFi projects were attacked 113 times, or roughly 67.6% of all attacks that were reported, Cointelegraph noted.​
Blockchain security firms are advising users to keep their private keys safe because poor key management in 2023 will result in financial losses from private key compromises. There have been exploit incidents as of 2023. Hackers took digital assets worth $3.5 million from GMX whale on January 3.
Our Solution: Paygold
Hardware wallets are the more secure way to buy, swap, send, and receive cryptocurrencies. However, they can be a bit restrictive in their functionality. ​
Paygold integrates XinFin with hardware wallets to allow for easy, fast, and secure staking of stored XDC crypto assets. Thus opening the possibility for wallet owners to earn money by staking cryptocurrency natively on the XinFin hybrid blockchain.
Benefits of our Platform
Enhanced Security: As the user's funds are stored offline, there is no risk of hacking or other security breaches​
Reliability: Paygold will automatically stake XDC on behalf of users as well as distribute staking rewards to users on a regular basis, thus eliminating the need for manual intervention.
Easy Access: By building a clean and minimalist UI along with well thought out user flows, Paygold wants to build a user friendly interface to provide easy access to the staking platform.
Energy Efficient: The offline nature of the the platform reduces the energy consumption associated with online staking, making it more environmentally friendly
Key Beneficiaries
People with a large net worth in digital assets like XDC. Cold staking using Paygold allows them to earn passive income while their assets sit securely in a hard wallet, safe from cyber attacks.
Novice people who are new to crypto and Xinfin and need an easy-to-use and secure platform to start staking their XDC assets.​
How Paygold Works
Paygold's offline staking platform is designed to be easy to use, even for those who are new to staking. The platform works by allowing the user to connect their hardware wallet to the Paygold platform, where they can then deposit their XDC holdings. Once the deposit is confirmed, the user's XDC holdings will be staked, and the user will begin to earn rewards.​
The rewards earned through staking can be withdrawn at any time, and the user can also view their staking status and transaction history on the platform.
Integration into the Larger Paygold Ecosystem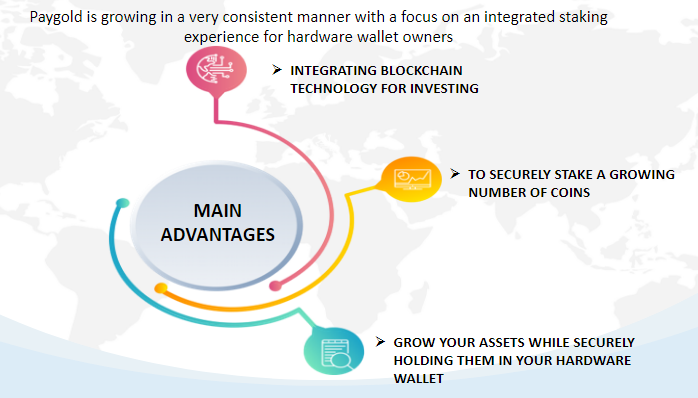 Our hardwallet staking solution will be plugged into the larger Paygold ecosystem. ​
As part of building the next generation of blockchain based financial services, we are building payment gateway APIs for merchants on Woocommerce, Wix, Shopify, etc. as well as peer to peer money transfer on an intuitive chat based interface. ​
We will also be offering a credit card which will allow users to spend the staking rewards they earn. This will allow a person to stake XDC stored in a hard wallet, earn staking rewards on it and actually spend it for daily expenses. ​
Integration into the larger Paygold ecosystem will offer great exposure and bring more users to the XDC network.​
Roadmap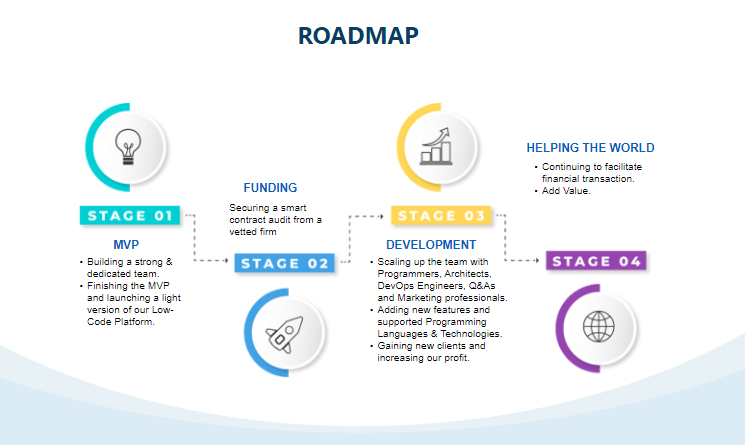 We are launching Paygold with the intent of becoming fully Financial Conduct Authority ("FCA") regulated and performing according to Institutional standards upon passing our smart contract audit. ​
Milestones
We are looking to raise a total funding of $20000 for delivering the following milestones.
Milestone 1
Deliverable: Building the core staking functionality of the platform and launching an alpha version of the product for internal testing.​
Status: Completed. Reach out to info@blockcoder.com to get login access.
Milestone 2
Deliverable: Securing an audit of our smart contacts from a vetted firm and designing the UI/UX to launch the beta version of the platform for early adopters.​
Funding requested: 12000 USD​
Status: Ongoing
Milestone 3
(Post completion of Milestone 2)​
Deliverable: Scaling the product for more users, adding internationalization support and ramp up marketing​
Funding requested: 8000 USD​
Status: Will begin post completion of milestone 2
Conclusion
Paygold is an innovative offline staking platform for XDC that addresses the security and reliability issues associated with online platforms. With its offline storage of staking wallets, automatic staking and regular rewards distribution, Paygold provides a secure and convenient way for users to earn rewards for holding and validating transactions on the XDC network. We believe that the development of Paygold will greatly benefit the XDC ecosystem and attract more users to the network.